1. SEASON 1 EPISODE 1:- The One Where Monica Gets A Roommate
"I just wanna be married again."
Rachel walks in.
"And I just want a million dollars."
The perfect Pilot episode.
2. Season 2 Episode 14:- The One with the Prom Video
"He's her lobster."
"So how many cameras are on you?"
The episode that establish the perfect relationship between Ross and Rachel.
3. Season 3 Episode 8:- The One with the Giant Poking Device
Joey's magnificent idea to confirm whether the dear neighbor "The Ugly Naked Guy" is dead or alive. The episode is full of power packed humor.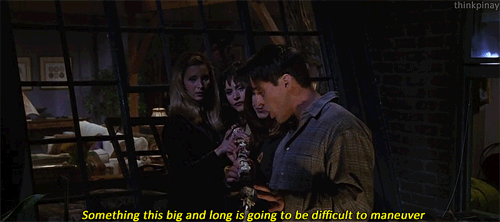 4. Season 3 Episode 25:- The One at the Beach
The Strip Happy Days game. The 17 pages, front and back. The one where Chandler peed on Monica..  And how can we forget this
5. Season 4 Episode 12:- The One with the Embryos
Hands down. This was probably the best episode of FRIENDS. The apartment bet. The quiz and then Phoebe talking to the embryos.
6. Season 5 Episode 14:- The One where everyone finds out
"Well, they don't know that we know they know we know."
7. Season 5 Episode 11:- The one with all the Resolutions
Those Leather Pants of our poor Ross. Awww..
8. Season 7 Episode 1:- The One With Monica's Thunder
Well, sup the whack playstation? This episode had Rachel's jealousy, Monica's thunder and Joey's dumbness and everything one could ask for.
9.Season 10 Episode 14:- The One with Princess Consuela
Say hello to Princess Consuela BananaHammock and her fiance Crap Bag.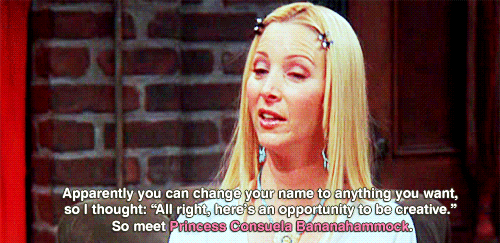 10. Season 10 Episode 17&18 :- The Last One
I know it's impossible to watch that last key scene again and again, but this episode had everything in it. Beautiful direction, screenplay and everything. All along the episode you will feel everything coming to an end.